Friday, August 15th, 2014, The Historic Electric Vehicle Foundation (HEVF) opened it's first International Electric Vehicle Museum in Kingman, Arizona in conjunction with the Route 66 International Festival being held there. The theme for that year's festival was 'The Crossroads of the Past and the Future'. The name chosen for HEVF's very first electric vehicle (EV) museum – the only one in the world solely dedicated to electric vehicles, was the 'Route 66 Electric Vehicle Museum'.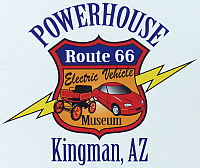 The site chosen by the City of Kingman was the historic Powerhouse Building, constructed in 1907 and fitted with oil-fired, steam-driven generators to provide electricity to the area. The construction of the Hoover Dam displaced the Power House's role.
To make "The Route 66 Electric Vehicle Museum" come together, HEVF's Executive Director, Roderick Wilde, worked with renowned Kingman resident and author Jim Hinckley and Kingman's City Manager, John Dougherty.